FHJ are accredited specialists in the supply and installation of business servers. Through our supply channels we work with Dell, Fujitsu, Lenovo and HP servers, provide network switches and routing, all configured to your specifications and needs. We can support companies of all sizes, ranging from smaller businesses that require small servers to companies that require enterprise level installation and support. For a free consultation about your support requirements please don't hesitate to contact us.

Our Installation Process
We can examine your existing infrastructure and give advice on areas for improvement. We can also work on your behalf liaising with other providers and suggesting solutions that works for you and grow with your business.
We carefully plan the installation process agreeing deadlines which will minimise disruption to your business. The configuration required will be agreed and a proposal of hardware/software costs provided which will include any additional devices such as network switches and routing.
We will install and implement the project ensuring that the system runs at an optimum level. This will include any training if required.
Servicing and on-site support
Following installation, we can agree an ongoing service package to support your infrastructure, ensuring it is maintained and runs at an optimum level. We will provide your business with an IT support service which can be accessed on demand. This includes remote access or a site visit by one of our technicians – our aim is to resolve quickly any issues that you may encounter.
We can also look after you existing IT infrastructure, for more information, please don't hesitate contact us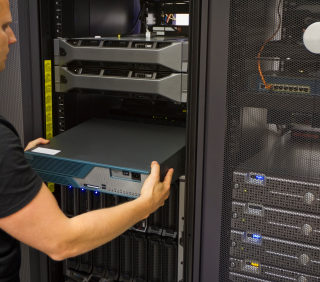 Here is some of the equipment we install for our clients…
Dell T20
The Dell Poweredge T20 is a perfect small office server which can be configured for a variety of uses.  The unit is quiet and noise free, contained in a mini tower chassis, designed to deliver efficient and worry-free operation.
Dell Power Edge VRTX
Can be both be used in both Rack and Tower form.  The VRTX is Designed specifically for small offices and enterprise branch offices.  The Hardware can be configured in several ways and easily expand as your business needs grows. The VRTX is versatile enough to be incorporated into a large data centre,incorporating different server nodes reducing cabling, using the VRTX integrated 10GbE and 1GbE internal switch modules.
Dell Power Edge T630
The Dell T630 is a highly configurable server which helps drive business.  The unit can be rack mounted or tower mounted. Featuring the latest Intel® Xeon® processor E5-2600 v3 product family, huge internal storage capacity, extensive configuration flexibility and the most powerful GPU capability in the PowerEdge server portfolio.
PowerEdge R730
This 2U rack server is a low-cost high capacity storage unit which will meet the demanding needs of e-commerce and virtual desktop infrastructure, data warehousing, databases with high performance that can be trusted. With Intel® Xeon® processor E5-2600 v3 product family and state-of-the-art DDR4 memory, boost data access for applications with up to 16 x 12Gbps SAS drives and high-performance dual RAID.
PowerEdge R630
This ultra slim 1U server offers and impressive solution for applcation and visualisation environments.  The PowerEdge R630 server is versatile and highly configurable for a variety of solutions, delivering the latest Intel® Xeon® processor E5-2600 v3 product family, 24 DIMMs of high-performance DDR4 memory and a broad range of local storage options
PowerEdge R430
Designed for rack environments requiring peak two-socket performance, sizeable internal storage capacity and short chassis depth to overcome space constraints, the PowerEdge R430 rack server is an excellent fit for high-performance computing (HPC), web tech and infrastructure scale-out.
PowerEdge R330
The Dell PowerEdge R330 is an excellent first server or replacement server for SMB and also highly attractive as an affordable ROBO server for large institutions. Compared to the previous-generation PowerEdge R320, the R330 supports DDR4 memory vs. DDR3, PERC9 vs. PERC8, the integrated Dell Remote Access Controller 8 (iDRAC8) vs. iDRAC7, and an Intel® Xeon® E3 processor vs. an Intel Xeon E5 in the previous-generation server
PowerEdge R220
The PowerEdge R220 1U rack server is an excellent choice for growing businesses and organizations needing a shortdepth rack-optimized chassis delivering performance, data protection and enterprise-class systems management. The R220 is ideal for web hosting, mail serving, file and print serving, video streaming, as well as a wide range of general-purpose productivity applications
PowerEdge FX2 Enclosure
The Dell PowerEdge FX2 enclosure is the uniquely small modular foundation for the PowerEdge FX architecture, an extremely flexible and efficient platform for building an IT infrastructure that precisely fits your computing needs.